we offer a complete and integrated service all under one roof. This includes everything from modeling to enlarging, molding to retouching, casting to finishing, patina, mounting, and installation, always working with the artist to realize their original idea. We also provide a complete manufacture service from start to finish - from the initial estimate, to any necessary discussions with engineers and architects, as well as constant supervision of all activities from the foundry process to the final installation itself.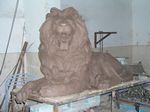 We provide the clay modeling,from a picture,We can enlarge and make the clay model in the right size.
From the clay model, we made the plaste model.This the preparation step for the product.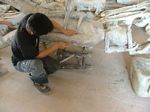 We also provide the glassfiber sculpture.Skilled worker is doing the work on this sculpture.
wax modeling.We can provide lost wax casting in large size scope.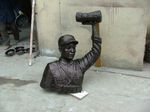 painting.We can provide different color depending on customer's requirment.